Spring Grove awarded Eco-Schools Green Flag
Posted on 19th May 2020 in School News, Achievements, Awards, News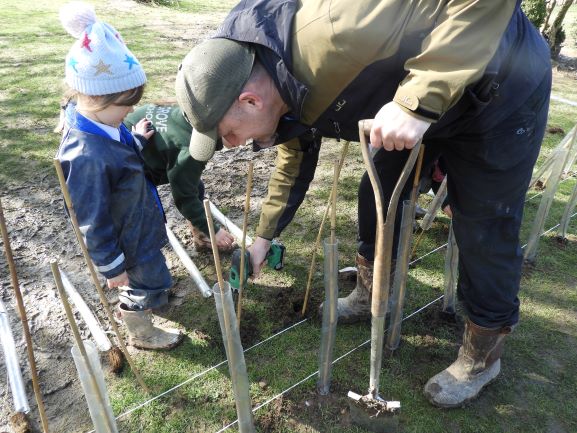 In September 2019, Spring Grove decided to draw together all the excellent Eco projects the children were already doing, both in and out of school, to work towards the prestigious Eco-Schools Green Flag Award. The children's efforts were quickly recognised with both the Eco-Schools Bronze and Silver Awards. Then in May 2020, as schools were still closed as a result of the Covid-19 pandemic, came the fantastic news that Spring Grove had achieved its Green Flag Award - a well-deserved reward for the hard work put in by children and staff alike.
The Eco-Schools programme in England empowers pupils to lead change within their school and have a positive impact in their wider community. Independent research into the programme has found evidence of the positive impacts on pupils, including increased confidence, development of leadership skills, improved pupil well-being and motivation at school. Mr Curnow, SG's Forest School leader and the driving force behind the Eco Schools programme in school, certainly agrees that working towards the Green Flag Award has seen some very positive outcomes: "The greatest thing the children have taken from this process is that they can drive change and make a difference…"
Led by Mr Curnow, the children worked through the 'seven steps' framework required for the Green Flag Award. They first formed an Eco Council with representatives from across the school before conducting an Environmental Review. They inspected the school site and in some cases interviewed members of staff in order to make their findings. The results were mixed - unsurprisingly, there were a number of things that SG was already doing very well, as well as areas that could be improved.
The Eco Committee decided they would like to concentrate on three topics - Energy, Litter and Biodiversity - as the next step of the Eco Schools project. They produced an Action Plan for the rest of the school year which included litter sweeps, more recycling bins and creating an Eco Garden to encourage wildlife.
The Spring term was all about gaining permissions, implementing the Action Plan and improving the School's eco credentials. It was particularly pleasing to see the children showing real enthusiasm and leading the direction of the Council with notable initiatives from Liberty to become a plastic-free school, and from Sophie to save energy by replacing white with blue socks in the girls' school uniform.
The most significant development of the term was the conception of the SG Eco Garden. This small 'rewilded' area will increase biodiversity and be available for education and science projects. A number of designs were submitted and the first 240 trees of the boundary were planted by children in Reception, Years 3 and 4 just before the government closed the schools in March.
In a time of great uncertainty it has been heartening to receive news of the Green Flag Award at school, and is testament to the dedication of all of the children that Spring Grove has achieved it in such a short time. It's now time to look forward and plan the next steps in readiness for the return to school. As Mr Curnow said: "I have been very proud of the initiative, leadership and enthusiasm shown by every member of the Eco-Council and am happy that, despite the current challenges, their commendable hard work has been rewarded. Of course, this award is not the end but should serve to spur everyone on to greater environmental efforts..."