St Columba's College Sixth Form student recognised for 'Outstanding' exam success
Posted on 5th Mar 2020 in School News, Achievements, Student awards Tweet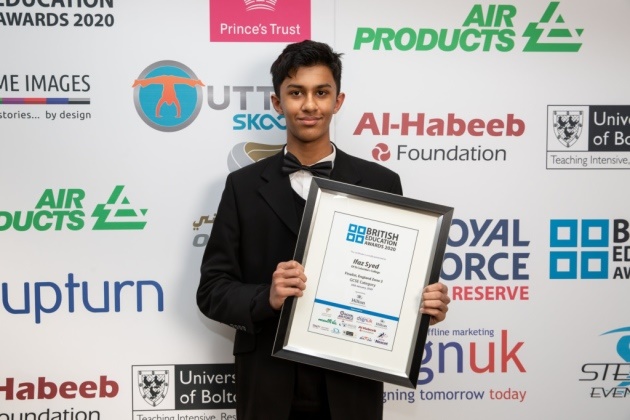 A St Albans student was shortlisted for the national British Education Awards 2020, in recognition of his GCSE results and extracurricular success.
St Columba's College student Ifaz Syed achieved 10 grade 9s in his GCSEs in 2019, as well as an A* with distinction in further maths.
Alongside this academic achievement, Ifaz also plays tennis, cricket and chess, and volunteers at a St Albans school for children with educational needs, Watling View, where he supports pupils with a range of physical and learning difficulties.
As a result, he was invited to the ceremony at the Hilton Deansgate in Manchester, alongside the UK's top students.
Ifaz Syed says: "I am very proud to be recognised by the British Education Awards, and I would like to thank St Columba's College and my family for all their support."
St Columba's headmaster, David Buxton added: "We are thrilled that Ifaz's outstanding success at GCSE has been nationally recognised and that he has been shortlisted for such a prestigious, national award. His hard work and curiosity to learn are an example to all."