Technology in the classroom: what are the benefits?
Posted on 4th Oct 2018 in School News, Technology, Curriculum, Which London School? Tweet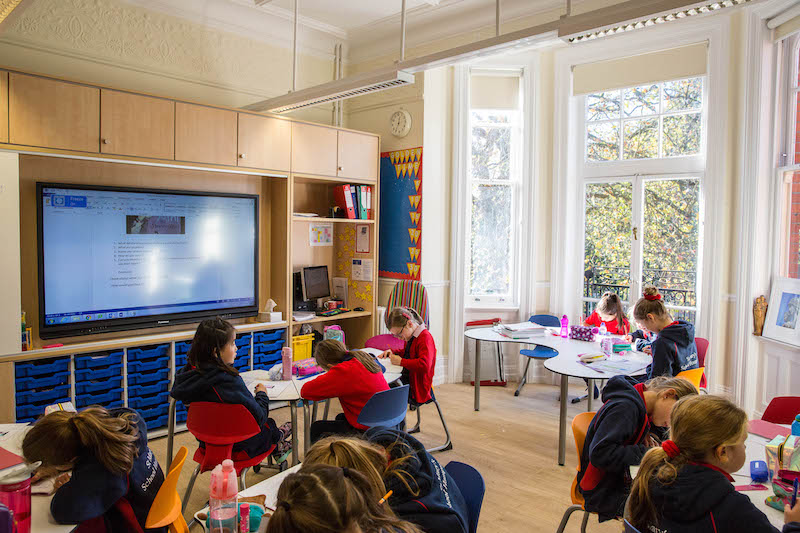 Harriet Connor-Earl, Headmistress of St Mary's School Hampstead, looks at the challenge of balancing IT with traditional practices...
When I meet the girls at the front door each morning, they burst into St Mary's School. They run, they skip and scooter at record breaking speeds! They are smiling, giggling or often brimming with something new to tell me.
As Headmistress, my primary goal is to help the girls and boys become their best selves. Within education, increasingly people seem to believe that our purpose is to teach children and solely focus on the knowledge required to pass a particular set of exams thus moving them forward to the next school, university or indeed career.
However, I believe that by fixating upon this, we often fail our children by forgetting to teach key habits of learning and essential life skills. If we can instil these habits and practical skills at a young age, they become embedded and of real value for life in the 21st century.
As an independent school with charitable status, we enjoy the advantage of being able to implement new initiatives very quickly. Investing in the latest IT equipment and bringing learning to life is a key priority at St Mary's School.
When I first arrived at the School, we decided to remove the dedicated IT suite. In a world where technology is embedded in every aspect of our daily lives, it felt alien to say to the girls: "Let's stop what we're doing and go to a separate room to use technology."
We have invested in new iPads and Chromebooks so they are more accessible to every pupil in the classrooms and fully integrated to support all areas of learning from Pre-Nursery to Year 6. The School has also invested in MacBooks for the music department to create digital music.
Children fully embrace and are excited by the opportunities that technology offers. We believe that incorporating the latest technology helps to promote independent learning, improves pupil engagement and encourages more active participation in the class. In turn, as our pupils are interested in the lessons, we've seen an improvement in knowledge retention.
Technology also offers numerous benefits for teachers. Direct access to the internet and online resources through our interactive whiteboards allows teachers to enhance and build on more traditional teaching methods. Another advantage that we've seen is improved sharing of resources and collaboration between colleagues.
In place of the IT suite, we were able to open a new Science Room to support and enhance the Science curriculum. This new facility allows outdoor learning to become a reality. For instance, in the curriculum there is a specific experiment on habitats. The children create different habitats for woodlice in the classroom such as damp, warm, dark or light. We put wood lice in this fake environment and see which one they go to. As we are lucky enough to have an amazing outdoor space, we are then able to go outside to find the woodlice in our garden and explore the habitats that they naturally choose.
Our focus on technology is equally balanced with an emphasis on creative and physical development. Music, drama, art and sports are also an essential part of life at St Mary's School and involve everyone. Children demonstrate great enthusiasm and build valuable and social skills that last a lifetime.
To support the integration of technology in our teaching, St Mary's School is currently undergoing an extensive refurbishment programme to deliver the most up-to-date and engaging classroom facilities.
In my office, I have three separate work areas. We, as adults, use different seating for different tasks to improve our concentration and efficiency. So, when designing our new classrooms, I wanted to include a variety of learning spaces to reflect the wide range of individual learning styles. Gone are name labels stuck to an assigned desk. Pupils can now choose between soft staged seating, a stand up desk or a collaborative working pod. All the furniture is flexible and can be moved easily. This allows teachers to group the children in varied ways according to the lesson. It follows that if you feel comfortable at your work station, you are going to work better and more effectively.
By having non-allocated seating and a variety of spaces, we have seen the children's output of work increase and improve. We also removed the teacher desk from the classroom to allow the teachers to sit amongst the children. In turn, this has meant the removal of a line of children waiting to ask the teacher a question and eliminating the requirement for a pupil to publicise that they are finding an aspect of learning difficult. For the child who is reluctant to share that they do not understand a concept, this has been revolutionary. They are now able to quietly speak to the teacher who may be sitting next to them.
Used together – the integrated technology, the flexible seating and the broad curriculum – the girls at St Mary's are flourishing. They are adopting habits of learning which they can take forth into their secondary education to ensure they truly thrive and achieve their individual potential. They are active and interested learners who are able to collaborate, communicate and develop their learning independently.
St Mary's School Hampstead provides an outstanding and inspirational Catholic education to girls from 3-11 years and boys from 3-7 years.
The School celebrates the uniqueness of every pupil and their achievements. The rigorous, challenging curriculum places a strong emphasis on high academic achievement within a culture of care and support.
Leavers achieve impressive results, gaining offers and Academic Scholarships from the best schools in the country, including City of London School for Girls, Francis Holland School, Highgate School, North London Collegiate, South Hampstead High School and St Paul's Girls' School.