Holme Grange announced as ISA Senior School Award 2019
Posted on 18th Nov 2019 in School News, Achievements, Awards, School awards, Independent Schools Association, Winners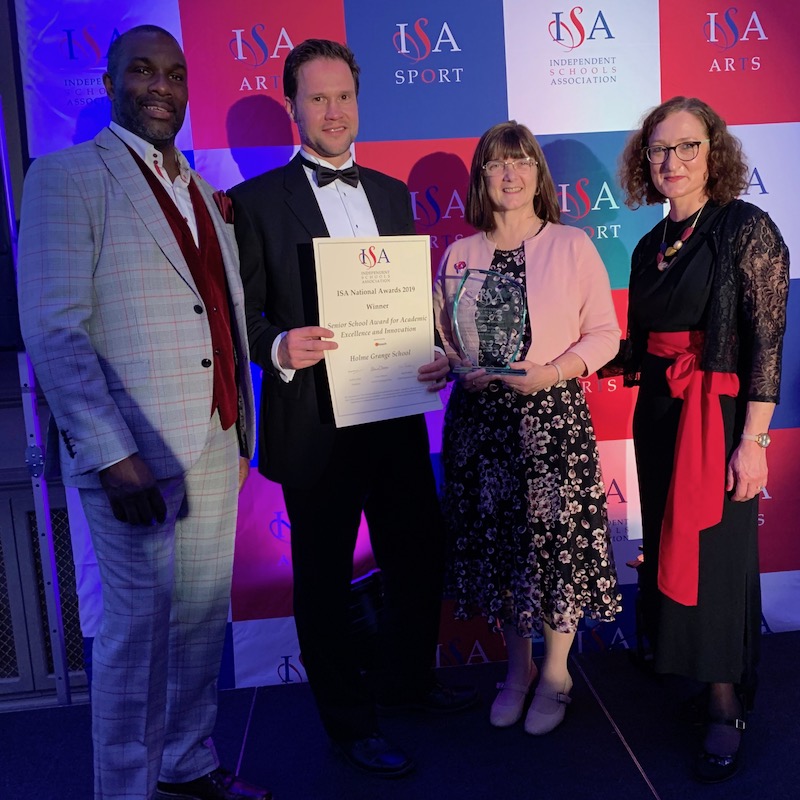 On Thursday 7th November Holme Grange School was announced as the winner of the prestigious Independent School Association Senior School Award. At the glittering black tie dinner the school was presented the award by Derek Redmond, World and European Relay Champion.
Headteacher, Claire Robinson said, "To receive this award is particularly pleasing having taken the decision four years ago to transform a traditional Pre-Prep and Prep School to a through school for pupils up to sixteen years of age. The team at Holme Grange have worked so hard and together we have transformed the site to offer fantastic Senior School facilities, expanded the staff to bring on board more best in class teachers and worked with outstanding educational experts to ensure our Senior offering is deserving of this award."
She went on to say, "Working with experts has really inspired our whole team across the school. We have been able to develop programmes both for our pupils that need extra support and pupils that benefit from academic stretch. Our GCSE results show that although we recruit pupils from a broad spectrum of ability we can still perform well in league tables whilst also equipping our young people with the skills they need for life."
The judges were looking for innovative programmes and approaches that were different from mainstream provision with a clearly-evidenced positive impact on pupils. The ISA explained why Holme Grange had won the award against stiff competition, "Our winner showed a clear focus towards research based learning to ensure positive academic results and instil character skills in their students. Senior Leadership invests significantly in Teacher Development and groups of teachers are involved in working with key educationalists. Holme Grange have successfully embedded an evidence-informed culture within the school, as a Research and Development Hub School."
The school were against tough competition and was shortlisted along with Queen Ethelburga's Collegiate and Thorpe Hall School. However they were delighted to be announced as the overall winner 2019. The Independent School Association is made up of 528 best independent schools in the world and their awards are one of the most respected in the sector. Holme Grange is delighted to be a winner in 2019.